למבצעים המיוחדים שלנו
פרטים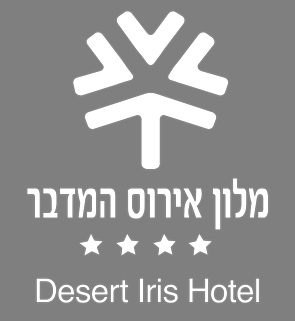 WELCOME TO THE DESERT IRIS
Explore the wonders of the desert at the Desert Iris Hotel, an idyllic oasis surrounded by breathtaking natural attractions. After a day of adventure, return to the luxurious hotel facilities to rest and recharge. The Desert Iris is a unique social enterprise that invests a substantial part of its profits back into the local community, helping it grow and thrive.
OUR ROOMS & SUITES
Each of our 47 spacious rooms and suites combines the peaceful tranquility of the desert with innovative luxuries to pamper you from the moment you arrive. Whether you choose a Superior Room, or one of our Junior, Deluxe, or Exclusive Suites, which each include a spacious bedroom and plush lounge, you'll always enjoy absolute indulgence.
DELECTABLE DINING OPTIONS
Enjoy tantalizing food and refreshing drinks your way. Whether you opt for B&B or full board, or are simply stopping by on your road trip, our dining room and Café & Bar offer a variety of delectable creations by our in-house chef.
DESERT SERENITY
Feel tension melt away in our tranquil Serenity in the Desert spa. We offer a range of treatments, including reflexology, Swedish massage, and hot stone massage, to indulge your senses, relax your mind, and heal your body in complete comfort. Like images of the mesmerizing desert, the benefits of our relaxing spa treatments will linger long after you leave.
LOCAL ATTRACTIONS
Surrounded by exquisite beauty, Yeruham offers countless fun activities for families and nature lovers. Marvel at the extraordinary Yeruham Crater (HaMakhtesh HaGadol) and the Colorful Sands Park, birdwatch at Yeruham Lake and Park, and be inspired by the abundance of beautiful wild flowers at the stunning Iris and Meadow Saffron nature reserves.
A unique place in the middle of the desert, enjoyable and fun. All the rooms have their own balcony. In the winter, the swimming pool is in an enclosed tent and has heated water. Perfect for children and families
Simon, UK
Wonderful spacious modern rooms, very comfortable. Nice pool, good breakfast and dinner. Great for many trips in the desert. We loved it!
Ursula, Sweden
Nice room, good breakfast. The hotel's main advantage is its staff – they respond to all our requests with a smile. The hotel manager even took us to the local park on Saturday.
Nati, Israel
DESERT IRUS CLUB
Join the Iris Club family and help Yeruham thrive! Special club benefits include exclusive discounts, gifts, and getting to know our friends in the local community.